Crossdock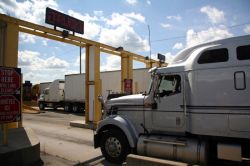 Sam-Son Distribution began its life in 1971 as a regional warehouse. In 1973, Sam-Son developed a group of Canadian Custom's Brokers as clients. This base of clients provided Sam-Son with the account base and expertise to become a U.S. ICC licensed Freight Forwarder and Freight Broker. The business revolved around consolidating Canadian companies U.S. purchases at Sam-Son (Northern Telecom, Home Hardware and Canadian Tire) and moving them across the US/Canadian border in truckload quantities. As the US & Canadian dollar fluctuated, the balance of traffic/trade imports vs. exports into and out of Canada changed. Shortly, Sam-Son was de-consolidating and warehousing Canadian made products, including Sorel Boots (Kaufman Footwear), Cougar Shoes (Susan Shoes) and Mirage Loudspeakers (Audio Products International). These two types of cross-dock distribution services became a predominant portion of our business model.
---
Sam-Son's Cross-Dock Distribution Services include:
Traffic/Freight Management: Carrier/Transport Selection Based on Client Preferences of Cost and Service Levels or Retail Preferred Routing Guide Management & Liability
De-Consolidation/Distribution of Full Containers, Full Truckload, Full Pallets into LTL (less than truckload) or Small Parcel Shipments (UPS, Fed Ex, USPS).

De-Stuffing Ocean Containers

Consolidation of Small Shipments & Packages into Large Less than Truckload Orders, Truckload Orders or Container Orders for Export

Ocean Container Stuffing/Loading for Export
---
Reduce the Cost of Shipping Across the US – Canadian Border
U.S. and Canadian companies use Sam-Son's Cross-Dock services to avoid the high rates charged by common carriers and parcel services when shipping across the US/Canadian border. Our "Cross-Border" freight service additionally provides a source of control, no unanticipated delays at US Customs or Canada Customs. Your sales and purchases will deliver without delay! The Sam-Son program allows you to utilize our extensive network of carriers and enjoy decreased transit times without paying expedited premiums (Freight Management Services). Sam-Son's network of LTL ("common") carriers includes both national and regional carriers providing our customers with the very best transit times in the industry!
Because your shipments are being transferred across our dock, there are no delays in reshipping your orders. Our cross-dock clients enjoy the same automated shipping/receiving reports as our warehouse clients, providing the control and information flow necessary to your company.