Freight Services
Faster Merchandise Delivery/Accelerated Sales/Accelerated Cash Flow
Shipments originating at Sam-Son facilities in California or New York allow you to ship to 64% of the US population within 1 day and 89% of the US population in 2 days.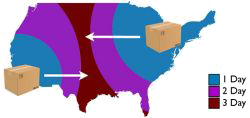 ---
Freight Expense vs. Service?
Rates of Less than Truckload ("LTL") carriers (Yellow, Con-Way, UPS, Fed Ex, R&L, Estes etc) fluctuate by more than 60% from one trucking company to the next. Sometimes there is a service level difference, but most often, like an airline ticket, the rate has nothing to do with the level of service. Sam-Son Logistics always secures the best service at the best rate for our clients. Using all modes of available transport ensures the most economical delivery option for the service level you select. For most shippers, the best available rate will be determined by the size and weight of each shipment. These factors, coupled with specific client requirements (use of preferred carriers, or even a consignee who does not want a specific carrier to be used) ultimately determines the mode of transport to be selected:
---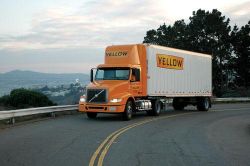 LTL ("common cartage")
For smaller shipments (under 3,000 lbs) Sam-Son uses common carriers that invoice by weight. The Sam-Son operating system provides a list of carriers that provide "direct" service to the location specified by net cost and service level. A traffic specialist selects the carrier for each shipment based upon your criteria, including specific routing requests. This system provides your company with numerous carrier options without having to obligate your company to specific trucking companies. Our system allows you to meet the numerous requirements and criteria your clients demand.
---
Parcel Shipments
Today parcel shipments range from 1 package to numerous packages up to hundreds of pounds. Often, shipments from 100 to 900 lbs can often be less expensive to ship as parcels than with LTL carriers. Sam-Son's operating system provides this analysis for each shipment, removing any guesswork. Specific operating procedures for each client, or instructions on the order, determine when we can use a parcel service rather than a LTL carrier. Value and carton size are often the determining factor of parcel vs. LTL carrier use. Sam-Son also maintains traditional parcel services for small package shipments (less than 200 lbs total).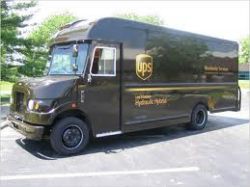 ---
Air Freight & Expedited Services
Sam-Son maintains air freight contracts with each major parcel carrier as well as bulk air freight rates with many air carriers. Whether you require same day, next day or second day delivery, Sam-Son will provide the necessary service.
---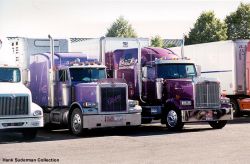 Contract Cartage
For larger shipments (several pallets of merchandise), including full truckload shipments, Sam-Son uses our network of truckload carriers that invoice by volume of trailer used or mileage. Our team of traffic experts will balance the costs of these transport modes to ensure the most economical option is always selected.