QC, Warranty & Repair
Quality Control ("QC")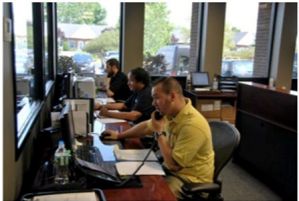 Sometimes a product shipped may not have met your specifications. When this occurs a business has a few choices:
Return the product to the manufacturer
Ship the merchandise "as is" and hope for the best
Inspect the merchandise

Check for proper function
Check for appropriate packaging
Determine disposition

Ship "as is"
Ship/Inventory as "B" stock
Or, make appropriate repairs and repack as factory packaged as "A" stock

---

Repairs & Refurbishment
Since 1987 Sam-Son has been performing repairs and refurbishments for our electronic clients. With our dedicated Lifetime Service facilities, we now service over 99 consumer and professional electronic corporate customers. Our low cost and high quality of service propelled our yearly average repairs from 30,000 units in 2000 to over 120,000 in 2010. Staffing grew accordingly from 30 to 107 people. In the 25 years of performing repairs we have serviced over 1,000,000 pieces of electronics. Sam-Son provides these services as a standard offering to our clients. Our ISO 9001-2008, six-sigma award winning Lifetime Service Centers (Buffalo and Los Angeles) will provide complete repair, warranty & refurbishment administration and operations on your behalf.