Cross Docking Distribution Services For Toronto, ON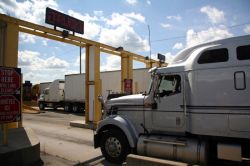 If you are a business in Toronto, ON looking to ship products across the border, contact Sam-Son today for exceptional cross-docking solutions. We are your complete solution to shipping goods. Sam-Son is full-service storage, distribution, logistics, and Transportation Company providing cross-docking services to businesses and companies in Toronto and the neighborhoods surrounding. Moving products across the border can often times come with steep prices. But when you use our cross docking services, you will save money as we have convenient warehouse locations on both sides of the border in Buffalo, NY and Oakville, ON. So, moving products from Toronto to the U.S. is made much easier.
Increasing efficiency, saving time, and reducing costs are just a few of the benefits of choosing our reputable cross docking service. Our professionals can be trusted to quickly and efficiently move products to their final destination. We do this with speed, accuracy, and attention to detail. In fact, we provide a variety of other logistics services along with cross docking to help meet your shipping and supply chain needs.
Why Choose Sam-Son
There are a number of reasons to choose Sam-Son. Every business or customer is different and has different requirements. Requirements which we often are able to meet with our flexibility. In the past, we have helped other businesses by the way of:
Streamline operations: Cross-dock terminal operations allow the flow of goods through the terminal to be quick and constant, with little to no holding time. Not only that, you will have higher satisfaction from customers on the receiving end of the supply chain.
Customized cross-dock solutions: We offer highly customized cross-dock solutions designed to suit your specific needs and budgets. Every business is different and has different requirements for success. Sam-Son, is dedicated to adapting to your needs and providing cross docking solutions that are specifically tailored to you.
Extensive coverage: Sam-Son Logistics can service 85% of U.S. and Canada origin/destination areas in 2 days by ground transport. Our cross-dock facilities are strategically located across entire North America and Canada to ensure a quick reach. We also boast an experienced and well-resourced team to handle your inbound and outbound shipments quickly and efficiently.
Reduced costs: With our exceptional cross-dock services, you can avoid the expenses related to international rate schedules charged by common carriers and small package carriers when shipping across borders. Our domestic shipping rates can be up to 60 % less than international shipping rates. We do what we can do help save you money to free it up for other business ventures.
Tracking services: We offer all our clients electronic shipping and receiving reporting options that enable you to track your orders and vendor shipments for easier inventory management.
Strategic location: Sam-Son Logistics offers over 1.2 million square feet of secure and ample warehousing space for Canadian and U.S. clients. Our three locations to serve your North American distribution include Buffalo, Los Angeles, and Oakville. Our locations and services give you the flexibility you need to reach most U.S. and Canadian businesses and households within 24 hours. Moving products around the country or back and fourth to and from the U.S. and Canada has never been easier.
A wide range of services: Sam-Son logistic provides a full suite of warehouse and distribution services designed to create and deliver value for your customer. Apart from cross-dock services, we also offer inventory management, consolidation services, pick and pack order fulfillment, custom labels and bar codes, return management, and more. Our full-service logistics operation will make all your shipping needs as easy as possible.
Again, if you are a business in Toronto and you need to move products to the U.S., our cross docking services are for you. Contact us today