Cross-Dock/Distribution
Non-inventoried Product
Cross-Dock services enable shipments that are already packaged and ready for transport to move quickly and efficiently to their final destination. Larger shipments are quickly broken down into smaller shipments for cross-dock distribution.
Both U.S. and Canadian companies frequently make use of cross-dock services to: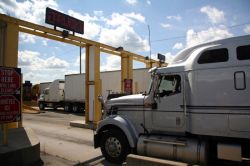 Reduce freight cost - avoid the expense associated with international rate schedules charged by common carriers and small package carriers when shipping across the border. Domestic shipping rates can be up to 60% less than international shipping rates.
Reduce customs and brokerage fees-multiple shipments and orders can enter U.S. or Canada as a single-customs entry, reducing customs and brokerage fees.
Benefit from our extensive network of national, regional and parcel carriers for decreased cost and transit times while also gaining control by avoiding delays at U.S. or Canada Customs.
Our preferred common carrier network can accommodate specific retail routing instructions or, we can assist you in selecting a carrier based on cost, service level, and desired shipping method.
Electronic shipping or receiving reporting options are available that allow you to track orders and/or vendor shipments for inventory.
Please contact us if you have any questions about our cross-docking logistics services.