FTL Services for Mississauga, ON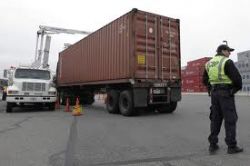 If your business is in need of a distributor in the Mississauga, ON area, Sam-Son Logistics is the partner you need. Sam-Son Logistics offers a variety of full truckload transportation services for 85% of destination areas in the U.S. and Canada. For businesses both large and small, Sam-Son provides the best full truckload transportation experience.
With Sam-Son's exclusive network of reliable truckload carriers, you can trust that shipments of any size will be delivered safely and efficiently. De-consolidation services are available to break large inventories into smaller shipments upon arrival to the U.S. or Canada for a more economical option. Plus, dedicated or shared truckload options are available to meet any of your shipping needs.
Sam-Son works diligently to ensure your shipments always arrive on time, instant, and without additional charges or delays. A dedicated traffic team also provides accessible freight management services to help you choose the best option for your business, so you'll have all your shipping needs met.
Benefits of Full Truckload Transportation Services
Businesses that choose to partner with Sam-Son for FTL services will experience measurable improvements in several areas, such as:
Reduction in freight cost, landed product cost, and overhead cost.
Better delivery times, increased order accuracy, and inventory turns leading to increased customer satisfaction and better sales.
Greater market flexibility by gaining access to new markets without the need to invest in warehouses, labor, or physical resources.
Faster shipping due to San-Son's efficiency and distribution experience.
Enhanced business growth by creating leaner operations and processes critical to selling your products.
At Sam-Son, we know that every shipment is different, and we are dedicated to meeting any special requirements yours might have. Since we've been shipping freight across the U.S.-Canadian border for almost 50 years, we have the experience needed to provide you with the best shipping operations.
Contact Us
If your business is in need of any full truckload transportation services in the Mississauga area, Sam-Son is here to help. Contact us today to find out how Sam-Son can help you and your business today.