Full Truckload Transportation Toronto, ON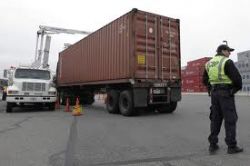 Full Truckload Transportation (FTL) with Sam-Son Logistics is a reliable and efficient way to decrease transit times and transporting large shipments. By going directly from point A to point B, FTL services can distribute faster, without any unnecessary stops or increased potential for loss or damages due to the truck staying with one handler.
Here are a few key points about Sam-Son Logistics' Full Truckload Transportation:
Experience: Sam-Son Logistics has been moving freight across the border and throughout the U.S and Canada for over 50 years.
Reliable: We can handle large and multiple pallet shipments throughout the U.S. and Canada because of our extensive network of truckload carriers.
Reduced Costs: By shipping with us, shipping costs reduce immediately because we use domestic rate schedules instead of international shipping rates.
De-Consolidation: Use our FTL de-consolidation services for moving bigger inventories, which can then be broken down into smaller shipments after arriving in the U.S. or Canada.
Management: With each full truckload shipment we provide freight management services by our professional traffic team. This not only ensures that your shipment will arrive on time but that it arrives without any damage or additional charges due to problems at the border or paperwork mishaps.
Multiple Options: At Sam-Son Logistics we don't just provide Full Truckload Transportation. We also ship Less Than a Truckload, small packages, and mail. We also provide Dedicator shared Truckload options.
Up to Date Tracking: With our variety of reporting tools and resources, we can provide freight and shipment tracking so that scheduled delivery time frames are as accurate as possible.
With our several warehouse locations, and top-notch equipment we can service 85% of Canada and the United States in just 2 days of ground transport. This means Sam-Son Logistics can move freight with Full Truckload Transportation easily, efficiently, and affordably. Sam-Son Logistics is dedicated to serving Toronto, Ontario. Whether you are an e-commerce business or a company in need of logistics and distribution you can rely on Sam-Son to get the job done.
If you are in Toronto and looking to ship a large quantity of freight to the same location, our FTL services can save you money, time, and headaches. If you are unsure if you have enough volume for a full truck load, just give us a call and discuss your shipping needs. This can also be a great optino when you are frequently shipping from one location to another on a regular basis.
Contact Us
For rates and information about our FTL services and how we can help solve suppy chain and shipping for your Toronto based business, call Sam-Son Logistics. We look forward to serving you and helping take away the burden of shipping concerns.