LTL Transportation in Kitchener, ON with Sam-Son Logistics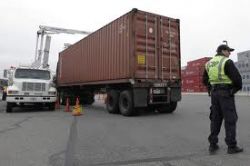 If your business is located in the Kitchener, ON area and you're in need of less than truckload services, Sam-Son Logistics is here to help you. Sam-Son provides LTL transportation services for all kinds of businesses in the Kitchener area, and with our resources, you can find the most efficient shipping operations for you.
Sam-Son has been moving freight across the U.S-Canadian border for almost 50 years, and we want to use our experience to give you and your businesses the LTL services you need. Whether you are shipping across the border or domestically, Sam-Son has a wide variety of services to choose from at extremely competitive rates. When you partner with Sam-Son, you'll be able to reach more customers faster, reduce delivery service times, and increase your visibility while sticking to your budget.
Benefits of our LTL Services
For less than truckload transportation, Sam-Son provides you with a flexible network of reliable LTL carriers. Using our carrier network in tandem with our east and west coast warehouses gives you the speed and reach to quickly get to customers all across North America. In addition to this, Sam-Son's years of experience will help you in numerous other ways, including:
On-time performance and superior handling when working with our carriers to reduce claims.
Experience and technology to make multiple options available based on your needs—including routing requests, best service at least cost, and more.
Knowledge to avoid the time and expense associated with freight classification, carrier rate negotiations, freight bill audits, and freight class errors.
Increased market flexibility without the need to invest in warehouses, labor, or physical resources.
Enhanced business growth and increased sales due to better delivery times, increased order accuracy, and inventory turns.
Visibility and reporting tools needed to provide freight and shipment tracking within scheduled delivery time frames.
At Sam-Son, we are dedicated to providing you and your customers with the best LTL transportation services. If your business is located in the Kitchener area, contact us to find out how Sam-Son can help you today.