Less Than Truckload Transportation For St. Catharines, ON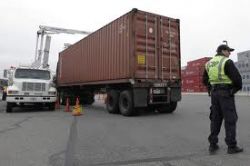 Sam-Son can help you with shipping Less than Truckload (LTL) items. Less than truckload items are relatively small freight or units under 150 pounds. These goods would not full a whole truckload but can be grouped with other items in a truck for cost-effective delivery. We can move your goods to 85% of the U.S or Canada in a maximum of 2 days, with our LTL services, because of our extensive transport network and strategic warehouse locations. Less than truckload transportation does not have to be complicated, just contact us to help you with your needs.
LTL For eCommerce and More
If you have an eCommerce business in St Catherines, or if you need to move freight, or want to make use of our LTL Services, we can help meet your needs. Our LTL services have been perfected over many years of industry experience and we have logistics down to an art. What is paramount to us is client satisfaction. Over the years we have pinpointed this comes down to; the speed of delivery, security of your goods, and communication around the location of goods. These three factors we hold core to our process when we are assisting with transportation of your frieght. We truly believe that you will find great value in the LTL services that we provide based on our decades of experience, industry knowledge, and execution of our services.
Sam- Son offers the full range of logistic support, you can find out more on our website. But when it comes to the transportation of goods, trucking is the fastest mode of inland transport. The reach is more widespread than rail and barge because road infrastructure is extensive and it also allows for door-to-door delivery. Because of this, we enjoy making use of our road networks. We are experts in cross-border delivery so shipping items from Canada to the US and vice versa is what we specialize in.
We have traffic analysts who investigate the routes so we plan the best trip at least cost for the delivery of your items. Freight is our area of expertise, so if you are uncertain about how your product would be shipped, best routes and rates, we would be happy to discuss this with you. It's our pleasure to put forward a plan for you that is specific to your needs. Please contact us to begin a conversation.