Less Than Truckload Transportation For Mississauga, ON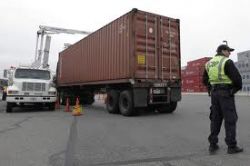 Sam-Son Logistics is the go-to source for LTL shipping services in the Mississaugua, ON area. Our network of carries we have built over the years enables us to move the smallest amount of parcels with ease. We can do this at competitive rates with high efficiency.
LTL For eCommerce and More
If you have an eCommerce business in Mississauga, or if you need to move freight, or want to make use of our LTL Services. Retail business from ecommerce stores require a finely tuned supply chain and shipping network to move products quickly. This service is especially useful for businesses that do not require full truckloads. Sam-Son has an excellent network of shippers that accept LTL parcels for fast results. What is paramount to us is client satisfaction. And in order to achieve this, we need to help make sure your customers are satisfied. We truly believe that you will find great value in our LTL services that we provide based on our decades of experience, industry knowledge, and execution of our services.
We are confident that we will help improve the supply chain and distribution process of your business so that you can grow. If you need more logistics services in addition to our less than truckload services, we can help. We provide a variety of logistics services, making us as complete resource to take care of your shipping needs. We do this with great accuracy, efficiency, and attention to detail.