LTL Transportation in Hamilton, ON with Sam-Son Logistics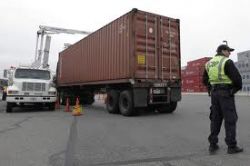 If your business is located in the Hamilton, ON area and you're in need of less than truckload services, Sam-Son Logistics is here to help you. Sam-Son provides LTL transportation services for all kinds of businesses in the Hamilton area, and with our resources, you can find the most efficient shipping operations to speed up the supply chain and shipping process.
Sam-Son has been moving freight across the U.S-Canadian border for almost 50 years, at competitive rates. We can help businesses of all sizes move small amounts of parcels to their next destination. We do this with our extensive network of partnerships. Over the years we have build up a reliable repuation thanks to our evolving company, excellent connections, and hard working staff.
Benefits of our LTL Services
Our network allows us to move products quickly. We can reach 85% of the U.S. and Canada in 2-days ground shipping. More highlights include:
On-time deliveries with superior handling quality.
Experience and technology to provide options for you based on your needs. Our flexible company is able to adapt and meet deadlines.
Knowledge to avoid the time and expense associated with freight classification, carrier rate negotiations, freight bill audits, and freight class errors.
Enhanced business growth and increased sales due to better delivery times, increased order accuracy, and inventory turns.
Visibility and reporting tools needed to provide freight and shipment tracking within scheduled delivery time frames.
At Sam-Son, we are dedicated to providing you and your customers with the best LTL transportation services. If your business is located in the Hamilton area, contact us to find out how Sam-Son can help you today.