Less Than Truckload (LTL) Transportation Services For Toronto, ON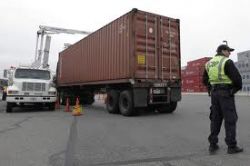 Have you ever wondered what LTL shipping means? Less Than Truckload or LTL shipping is the term used to refer to a form of freight transportation in which the parcels are either too small or not enough to fill the entire space in a trailer. It is a form of shipping used by those whose freight weighs anywhere between 150 and 15,000 pounds.
When it comes to LTL shipping, Sam-Son Logistics offers the most flexible and reliable network to move your freight safely and quickly. We proudly serve the Toronto, ON area, effectively moving products around Canada and the U.S.
With the most up to date technology available, our professionals are able to get your merchandise to your customers on time, while offering a variety of options to fit all your needs in respect to routing, costs, and much more!
Strategic Locations & Partnerships
Freight is our specialty and we move yours through an extensive network of carriers that operate both regionally and nationally, providing coverage throughout 85 percent of the US and Canada, to ensure your parcels reach their destination quickly and safely. We can do this becuase of our warehouses in close proximity to the border. Not to mention, serving Toronto, ON based customers and getting their products over to the U.S. is an easy feat for our company.
With warehouse locations on the east and west coasts we can offer a wide array of options to fulfill your needs in reference to routing, pricing and much more!
Through our experienced LTL partners we provide the ultimate service and handling of your parcels, ensuring its timely and a safe delivery at your intended destination, which reduces the possibility of claims and errors.
If you are ready to maximize costs while maintaining the highest standards of quality in LTL freight transportation, Sam-Son Logistics is the answer to all your shipping needs.
At Sam-Son Logistics our mission is to move your freight safely and quickly through our vast network of experienced transportation partners, ensuring your peace of mind and the knowledge that you are receiving the best service at the most affordable cost. All while saving the money and time you would normally invest in carrier rate negotiations and freight classification, among others.
If you have any questions about our transportation services, pricing, routing, and more, don't hesitate to give us a call and we will be happy to provide all the answers you require, as well as a quote for your LTL shipping needs in a friendly and knowledgeable manner.
At Sam-Son Logistics we get the job done right, the first time and all the time!